Strapless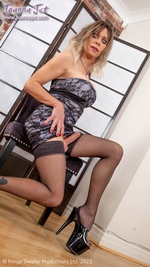 01 December 2023
Going for the minimalist look with a strapless dress, strapless heels and no panties ;-) xxx
Office Slut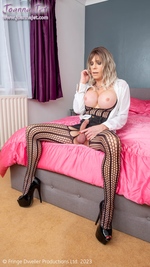 24 November 2023
Now you know what the office sluts does once she gets home ;-) xxx
Little Black Shiny Dress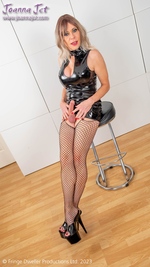 17 November 2023
I have plenty of little black dresses but then there was this PVC one to add to my collection! xxx
Babydoll Mommy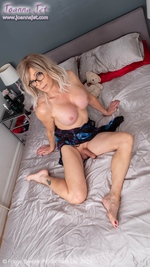 10 November 2023
Mommy is having some extra time in bed in her babydoll today sweetie. xxx
Slutty Red Accent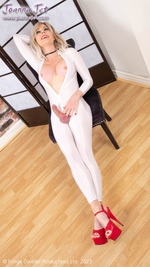 03 November 2023
Adding a slutty splash of colour to my white catsuit with red lips, nails and high heels. xxx
High High Heels & Nylons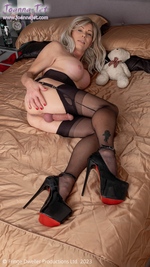 27 October 2023
Black nylons seemed like the perfect complement to these gorgeous extreme heels very kindly purchased by one of my Fansly subscribers.
Ready for Worship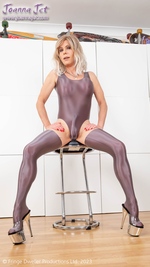 20 October 2023
If one is expecting a little worship, this is definitely the outfit to wear for the occasion ;-) xxx
Blue Fluffy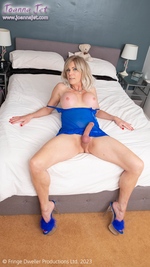 13 October 2023
One of my Fansly subscribers was very generous and bought me these fluffy blue heels and I managed to find a matching babydoll. xxx
Red and Shiny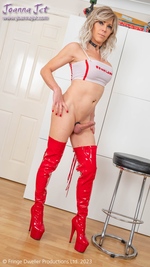 06 October 2023
I suddenly realised I have way too many black boots. Time for some colour! xxx
Pink Pleasure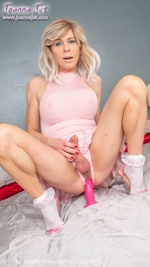 29 September 2023
There are all sorts of things that are pink and can bring you pleasure ;-) xxx
Heels + 1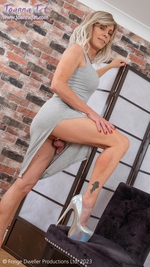 22 September 2023
No need to complicate things. Pick a pair of heels to wear and just add a single item of clothing ;-) xxx
All the Sheer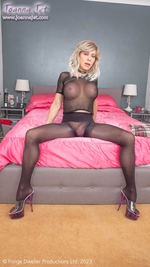 08 September 2023
Why just have a sheer top or just sheer pantyhose/tights when you can everything sheer! xxx
Blue Peril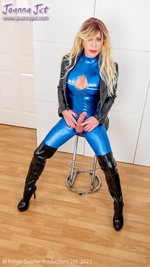 01 September 2023
With this catsuit, it feels like I need a superhero name. How about Blue Peril? :-) xxx
Lady in Satin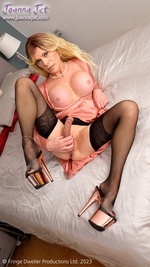 25 August 2023
A lady in satin with very unladylike plans for you! xxx
Red Zebra
18 August 2023
I have been doing a lot of black and white recently so decided on a french accent for this zebra outfit ;-) xxx
Satin Bedtime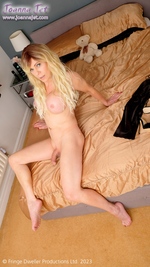 11 August 2023
After a nice long bath, it is such a nice feeling to slip into a satin nightgown. xxx
Drill Sergeant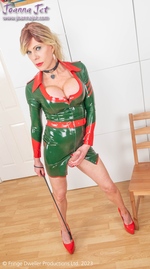 04 August 2023
You know this latex clad Drill Sergeant will whip you into shape in no time ;-) xxx
Special Treat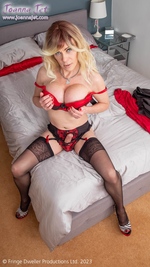 28 July 2023
If I promise a special treat, you know it comes with matching lingerie ;-) xxx
Seventies Sparkle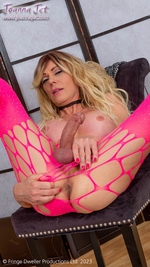 21 July 2023
Defnitely a seventies look with plenty of sparkle! xxx
Holey Moley
14 July 2023
Holey moley, there's a lot of holes in this outfit but that's a good thing! xxx
Summer Colours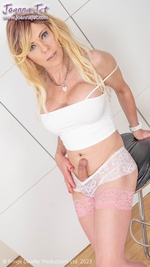 07 July 2023
Pink and whites are definitely summer colours and best suited to skimpy clothing ;-) xxx
Latex and Legs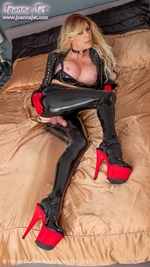 30 June 2023
One could argue that the only way to improve on latex and legs is to do legs in latex ;-) xxx
Revealing Blue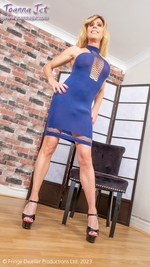 23 June 2023
Skin tight and thin material makes for a very revealing dress but for certain situations, that works just fine :-) xxx
Playdoll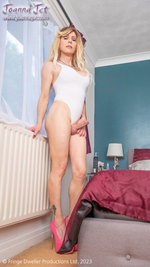 16 June 2023
It's not just the girls that get to have fun with a playdoll ;-) xxx
Bohemian Lace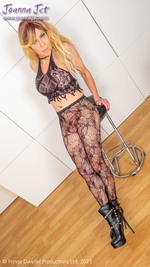 09 June 2023
My bohemian lace look went down very well whilst tent surfing at a festival ;-) xxx
Even more Dotty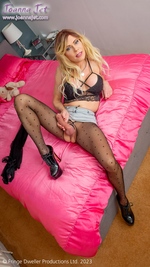 02 June 2023
I felt like the stockings was not enough dotty so how about some crotchless tights/pantyhose too? xxx
Go for Gold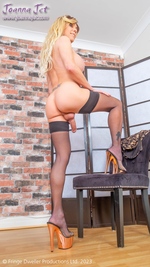 26 May 2023
Always looking to set a standard :-) xxx
Pretty Dotty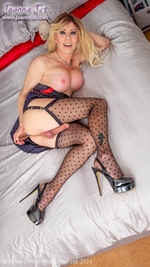 19 May 2023
Just one of those days when I am feeling pretty dotty ;-) xxx
Bold and Bright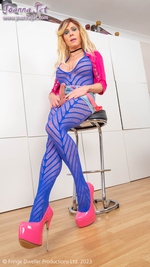 12 May 2023
You are definitely not going to miss noticing me in this outfit :-) xxx
Lace Aplenty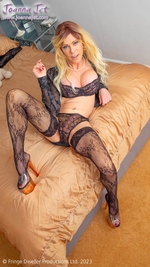 05 May 2023
When picking a sexy outfit, plenty of lace is always a good move ;-) xxx
Spring Ready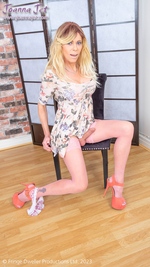 28 April 2023
Just trying on different outfits from my spring wardrobe and I am sure this dress is getting shorter every year :-) xxx
Street Girl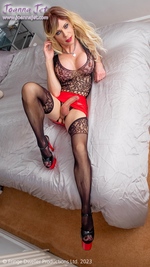 21 April 2023
Sometimes, you just want to pick something up on the way home to keep you entertained ;-) xxx
For the Office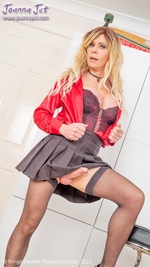 14 April 2023
If I were to go for an interview for an office job, this is what I think I should wear :-) xxx
Lacy and Black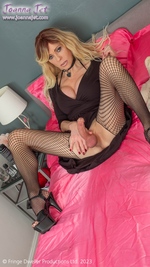 07 April 2023
Slipping into one more black outfit before spring comes round ;-) xxx
Shorty Sheer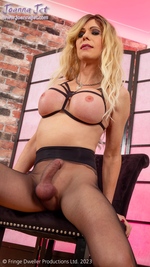 31 March 2023
Short shorts are great for showing off those sheer tights/pantyhose but I know you prefer no shorts at all ;-) xxx
Time for Nylon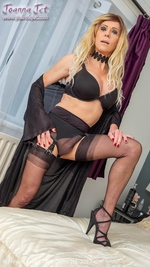 24 March 2023
I can't go too long before slipping into some fully fashioned nylons and sheer nylon panties for your pleasure ;-) xxx
Stretchy Black Thing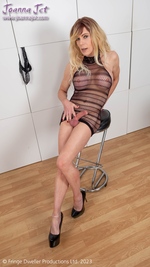 17 March 2023
To do sexy, a stretchy black thing is a great alternative to the little black dress :-)
Bedroom Skimpies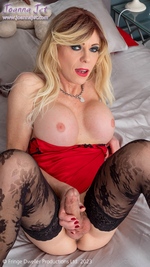 10 March 2023
From skimpy babydolls to fluffy high heel slippers, I have outfits for the just the bedroom too ;-) xxxx
Office Slut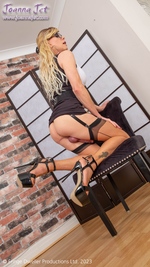 03 March 2023
Tight dress, stockings and sky-high heels? It must be the office slut ;-) xxx
Lingerie Troubles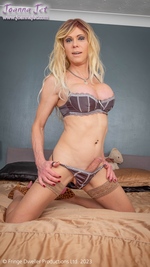 24 February 2023
When I find myself spilling out of my old lingerie but for all of the right reasons :-) xxx
Cruiser Girl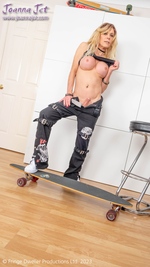 17 February 2023
When I say I'm off cruising, do you really know what I mean? :-p
Miniskirt, Miniboots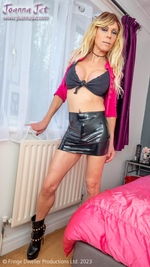 10 February 2023
All that's mini here are the latex skirt and the boots ;-) xxx
Miss White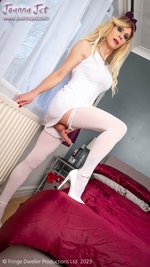 03 February 2023
Miss White appears to everything she needs in white except for panties. xxx
Madam Demands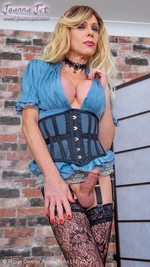 27 January 2023
It is pretty clear that Madam will make demands but I am sure you will be happy to comply ;-) xxx
Printed MILF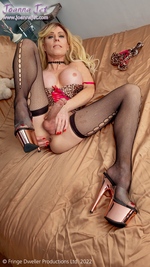 20 January 2023
Black knickers and bra under a black dress is so last year. An animal print basque and matching thong is a much better way to go :-) xxx
Buckles and Boots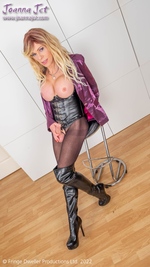 13 January 2023
Not your everyday outfit but I like to think I make it work ;-) xxx
Staying Wrapped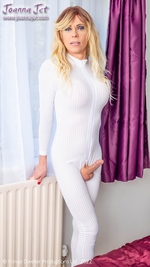 06 January 2023
Most prefer tights/long johns and vests for winter undergarments. I like to go for a zippy catsuit :-)
Holier than Expected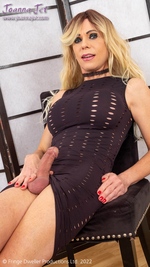 30 December 2022
Cutouts in a dress is not that uncommon but this one is definitely holier than expected ;-) xxx
Merry Christmas 2022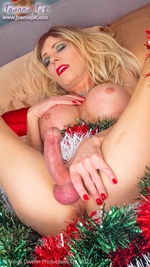 23 December 2022
Wishing you a very merry Christmas and I hope it involves plenty of filled stockings! xxx
'Tis Season for Red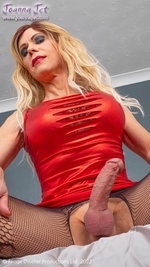 16 December 2022
Plenty of red always works at this time of year ;-) xxx
Keeping Fit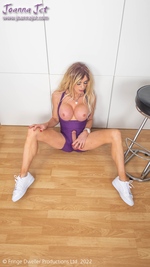 09 December 2022
There are many ways to keep fit. Some involve some comfortable and pleasurable positions, some do not :-/ xxx
Hosiery Gift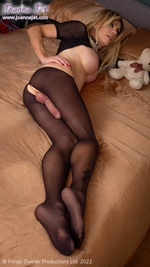 02 December 2022
This Woolford hosiery was a gift and once I figured out how to put it on, I discovered just how practical it was! :-) xxx
Not for the Timid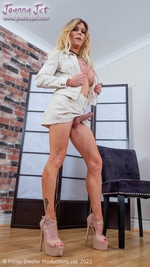 25 November 2022
The skirt length on this outfit is definitely not for the timid, especially if you decide to go commando! xxx
Purple Fucktoy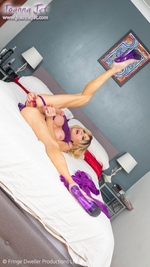 18 November 2022
The question here is whether the title is referring to the glass dildo or me? xxx
Full Retro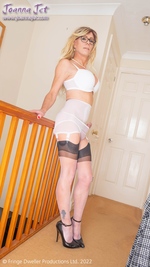 11 November 2022
It's been a while since I went full retro with, under my dogtooth dress, nylon girdle, panties and stockings along with ankle strap patent court shoes. xxx
Teddy Ready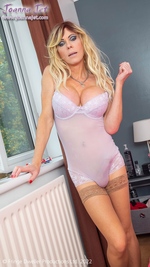 04 November 2022
I should be ready to go out but instead, I am simply ready to lounge around in my teddy.
Lady Scarlet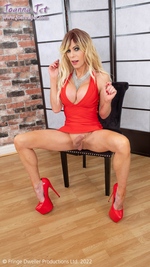 28 October 2022
I think the title says it all :-) xxx
A MILF at Home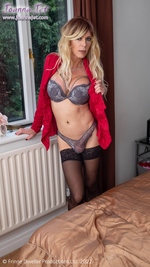 21 October 2022
When getting home for the day, 1st order of business is to get down to my undies and have some fun! xxx
A Little Red Trim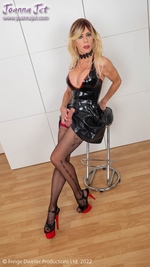 14 October 2022
A little red trim is always a nice touch on a black outfit and especially when it involves latex :-) xxx
Wild Child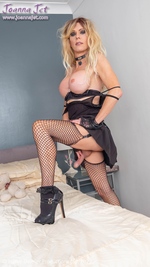 07 October 2022
You know it's going to be a long night ;-) xxx
Vinyl, Seams & Straps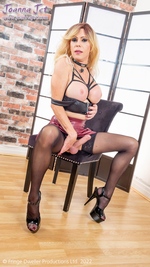 30 September 2022
This is what you get when you put vinyl, seams and straps together ;-) xxx
Well Prepared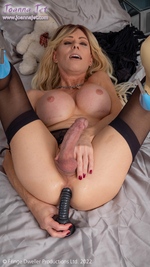 23 September 2022
I'm always well prepared, making sure everything fits properly for later, including the large dick I am expecting inside me ;-)
Knickers and Socks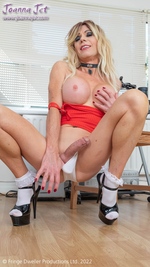 16 September 2022
I'm a good girl me, remembered both knickers and socks! :-) xxx
Other Plans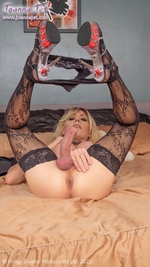 09 September 2022
Just letting yuou know what you are missing out on if you make other plans ;-) xxx
Last of the Summer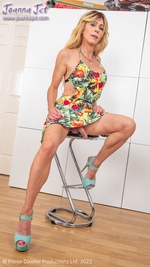 02 September 2022
There is not much left of the summer so need to get into flowery summer dresses whenever I can! xxx
Lollipop Girl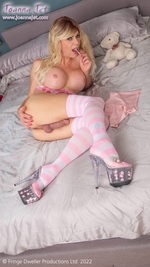 26 August 2022
Lollipop girl loves pink, lollipops and playing with her tits, cock and ass xxx
Going in Hard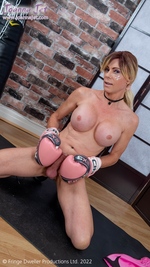 19 August 2022
Sometimes, to enjoy something to the max, you have to go in hard ;-) xxx
Boots and Belt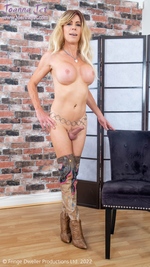 12 August 2022
When there is a heatwave and chance of storms, just boots and a belt will do :-) xxx
Space Princess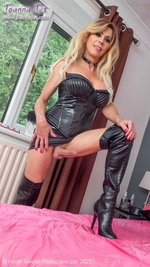 05 August 2022
This outfit certainly do not help the rumours that I may actually be a space princess ;-) xxx
Still Cougartime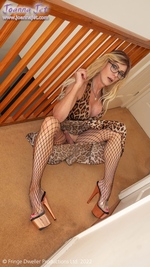 29 July 2022
I know I wore this dress in the winter but cougaring is a year-round activity ;-) xxx
Well Ventilated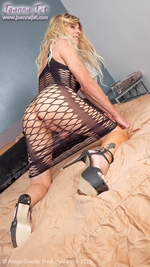 22 July 2022
This dress, with so many holes in the back, is just great for hot summer nights and I get to accessorize with a butt-plug too! xxx
Nylons and Heels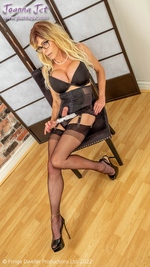 15 July 2022
One of my signature looks, black fully fashioned nylons with patent black slingbacks ;-) xxx
Black and Sheer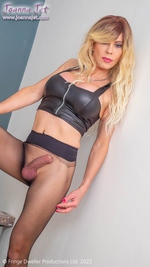 08 July 2022
These sheer black tights/pantyhose are a firm favourite but they do ladder easily though :-/ xxx
No Panties Sweetheart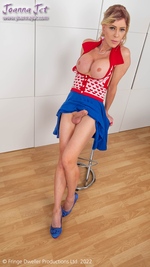 01 July 2022
The halterneck may be all hearts but underneath that skirt, it's all about leaving my cock free :-) xxx
Catsuit? Of Course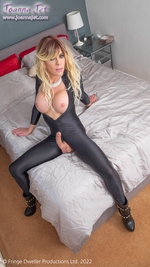 24 June 2022
Do I have catsuit? You already know the answer to that question and here is another one in my collection :-)
Summer Vibe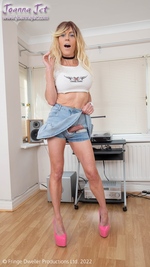 17 June 2022
Just sorting out my summer wardrobe and I have a found a skirt that is perfect for showing off my surprise :-) xxx
Fully Netted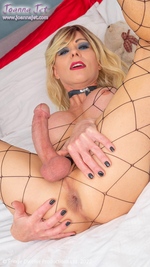 10 June 2022
The netting is just the right size for letting everything in and out :-) xxx
MILF o'clock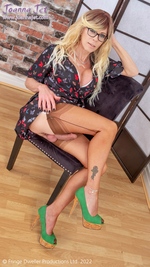 03 June 2022
A tea dress, fully fashioned nylons, high heels, big tits and long legs, it must MILF time! xxx
For the Bedroom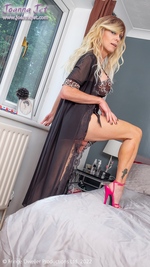 27 May 2022
I have so many outfits just for the bedroom, this is one of them :-)
Seventies Skater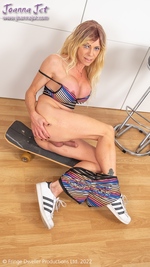 20 May 2022
Blonde, slim, bright colored make-up, matching shorts set and a skateboard. All set for a day on Venice Beach in the seventies ;-) xxx
Another Little Black Number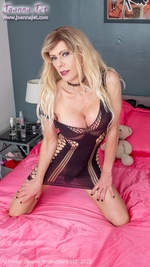 13 May 2022
Another little black number to lounge around in :-) xxx
Work then Play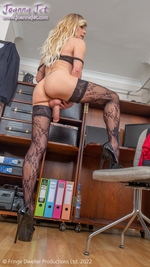 06 May 2022
It's important to get your priorities right and it's much easier when work and play are the same thing :-) xxx
Pleasure Time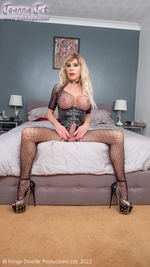 29 April 2022
I think my choice of wardrobe makes it pretty clear that I am going to use someone for some pleasure time ;-)
Skintight Blue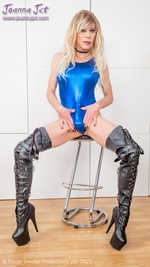 22 April 2022
Skintight, shiny and blue, now wonder I picked this body for an outfit ;-)
Pinks and Blues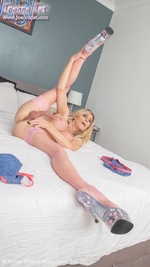 15 April 2022
Just lounging about in some designer pink and blue lingerie with pink holdups and stripper heels. Typical day really ;-) xxx
Clubby Fluffy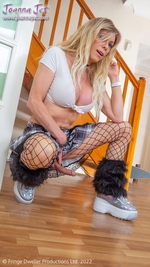 08 April 2022
One of my favourite outfits for a night of clubbing and dancing ;-)
My Plaything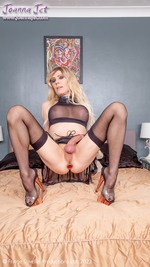 01 April 2022
Everyone needs a plaything. This one comes accessorised with a buttplug ;-) xxx
Madame Awaits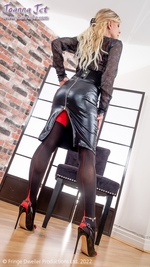 25 March 2022
Madame awaits your services but in the meantime, she can keep herself occupied. xxx
Sheer White Zippy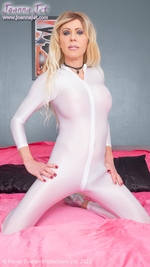 18 March 2022
I found another catsuit! This time, it's white, sheer and with the obligatory zips ;-)
Sheer Business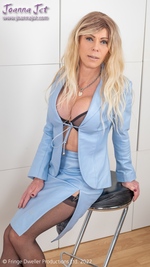 11 March 2022
Mmmm, what to wear under a leather business suit? Just sheer lingerie will do! xxx
Sensuous Classic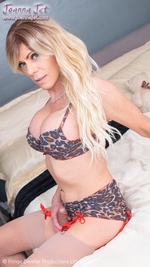 04 March 2022
The sensuous part is that you know that under my fitted full-length dress, I am either wearing absolutely nothing or some sexy lingerie ;-) xxx
Latex and Hose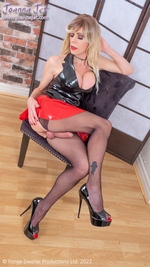 25 February 2022
Could not miss out on the opportunity to slip into some latex and hose ;-) xxx
Booted Sheer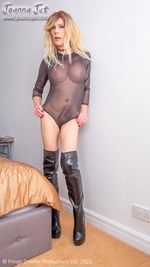 18 February 2022
New bitch boots and a sheer body? It's time to play! ;-) xxx
Shiny Pink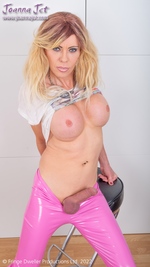 11 February 2022
Leggings that are both pink and shiny? You know I could not pass up on these!xxx
Dressed for the Occasion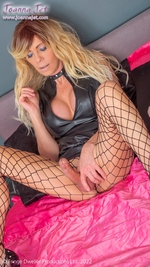 04 February 2022
I am always dressed for the occasion but can you guess the occasion? ;-) xxx
Pleats and Heels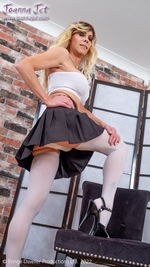 28 January 2022
I love pleated skirts as taking them off is always optional ;-)
Holey Stripey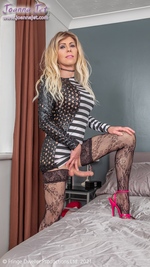 21 January 2022
A very unusual dress this one and almsot impossible to avoid some nip slip in it when you are an F cup ;-) Kisses, Joanna xxx
Overnight Stay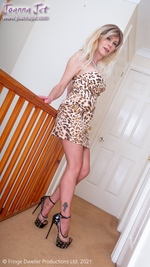 14 January 2022
When you get the feeling that an overnight stay may be rather memorable ;-)
Playtime Babydoll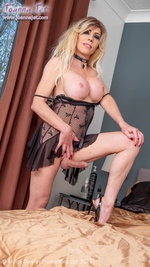 07 January 2022
I always have a choice of babydolls to slip into in case of an unexpected visitor ;-)
Still Cougaring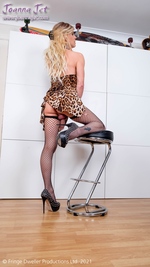 31 December 2021
Still rocking the leopard print when I am on the prowl for a nice young man or lady ;-) xxx
Bohemian Lounging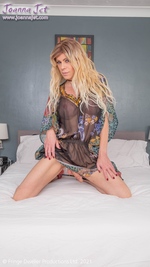 24 December 2021
A nice little sheer number for lounging around the house ;-)xxx
Gift Wrapped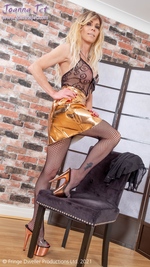 17 December 2021
As my skirt looks like it's made out of wrapping paper and my bodystocking has a bow on it, I think that counts as gift wrapped! xxx
MiniKilt and Latex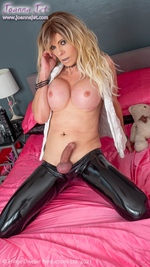 10 December 2021
A mini kilt is already pretty unusual but I added some latex pantyhose to the outfit too. I think it works, what do you think? :-)
Winter Pink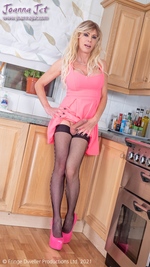 03 December 2021
With the cold winter days getting shorter and more gloomy, I thought I would brighten up the day with a pink dress :-)
Boudoir Lingerie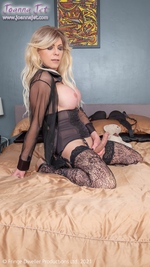 26 November 2021
Black lingerie, lace and some slutty stripper heels for that boudoir look ;-)
All the Whites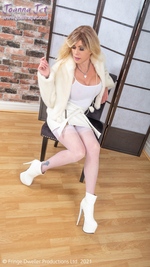 19 November 2021
I do love to colour co-ordinate and I have not done white in a while ;-)
I can do Red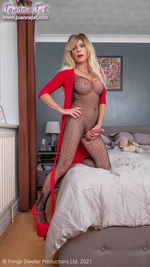 12 November 2021
What's that you say? Can I wear something red? Yes I can do that :-) xxx
My Office, My Rules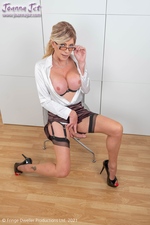 05 November 2021
As the office boss, I get to make the rules and they suit me just fine ;-) xxx
Micro Dress and Heels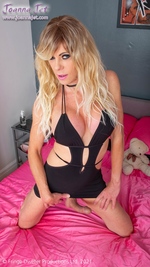 29 October 2021
Definitely not much to this dress, no one seems to mind though and it also takes up very little luggage space which is handy :-)
Sheer Hosiery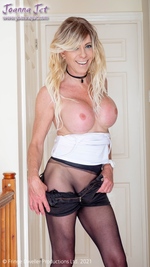 22 October 2021
The weather is getting a bit too chilly for bare legs but sheer pantyhose is perfect for wearing under short shorts! xxx
All the Prints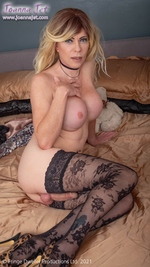 15 October 2021
Mixing up the prints with some snakeskin and some leopard but I think it works ;-) xxx
Denim Blonde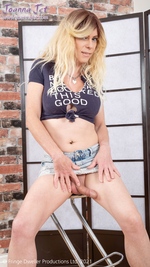 08 October 2021
I wore this outfit for a shoot about a decade ago. The top is a little tighter now but it's all good :-) xxx
Little Red Riding Boots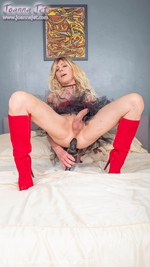 01 October 2021
Riding in Boots is something I am very practiced at ;-) xxx
Tightly Wrapped
24 September 2021
Tightly wrapped in my very comfy outfit and all ready to play :-) xxx
Classic MILF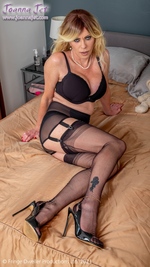 17 September 2021
A low cut blouse, miniskirt, sheer lingerie, fully fashioned stockings and slingback sandals for that classic MILF look ;-) xxx
Meet Me After Work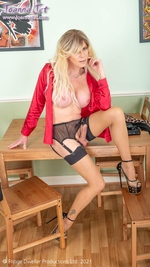 10 September 2021
When I ask you to meet me after work, will you take me up on my offer? xxx
Boot Passion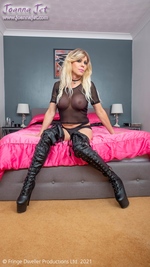 03 September 2021
With many requests to see me in boots again, I slipped on my super high thigh length strappy boots for this one :-) xxx
Hello Sailor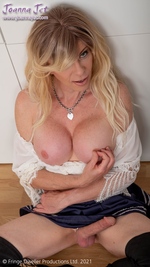 27 August 2021
If I was hanging around in a pub near a naval base, I think this would be my outfit of choice :-)
Perky in Pink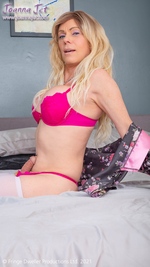 20 August 2021
Definitely feeling perky in my pink outfit, can you tell? ;-) xxx
Staying Cool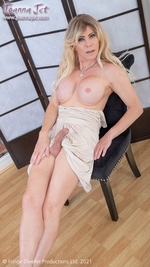 13 August 2021
We have been getting some really hot days recently and nothing but a loose floaty dress and a pair of strappy heels works just fine for that :-) xxx
Just Lace and Heels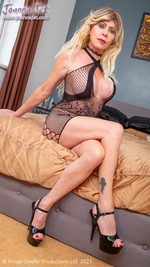 06 August 2021
Sometimes all you need is just a lacy dress and a pair of heels ;-)
The Neighbour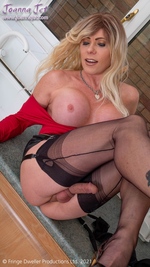 30 July 2021
The neigbour that loves it when you pop over for more than just a cup of sugar;-)
All the Net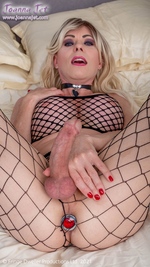 23 July 2021
Did someone say fishnet? I can do that! ;-) xxx
Braces or Suspenders?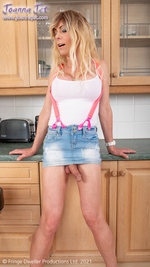 16 July 2021
On one side of the pond, they are called braces, on the other, suspenders. Either way, they work well with the outfit :-) xxx
Bedroom Lace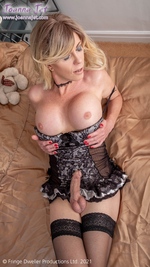 09 July 2021
Black and white lace, hosiery and heels for the bedroom :-) xxx
Summer MILF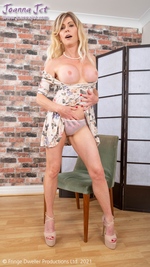 02 July 2021
The perfect flowery summer dress for a MILF. A little too short, very heavy on the cleavage and goes perfectly with a pair of strappy high heels ;-)
Loving Whites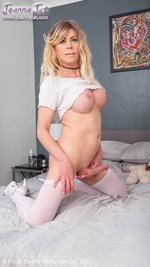 25 June 2021
Defnitely a white theme for this one with a splash of pink in the right places ;-) xxx
Camo Casual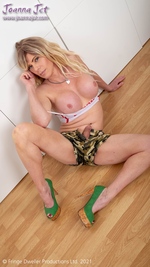 18 June 2021
It's the season for short shorts and tiny tops so time to dig out the camo shorts!
Bedroom Demands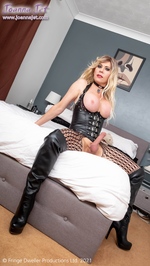 11 June 2021
When you walk into the bedroom and see me wearing this outfit, you know who is making all the decisions tonight :-) xxx
Tight and Shiny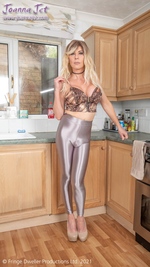 04 June 2021
I am always on the lookout for the tightest and shiniest of outfits and I think these leggings hit the mark! xxx
Little Minidress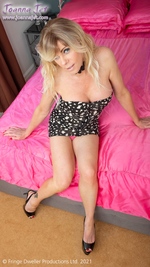 28 May 2021
One of my many little dresses that are way too little for modesty :-) xxx
AirTnC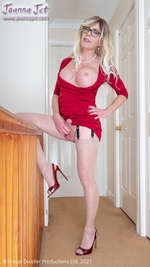 21 May 2021
This landlady likes to offer so much more than her spare room to her weary guests ;-)
Gold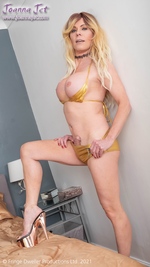 14 May 2021
A little gold outfit with some full-on stripper heels ;-)
Spring Polka Dot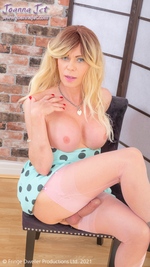 07 May 2021
The best thing about spring is it's warm enough for summer dresses but cool enough to include stockings! xxx
Easy Access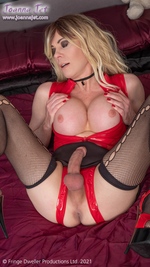 30 April 2021
When I found this red PVC bodysuit, I knew it would be the perfect addition to an easy access outfit :-) xxx
Pinky Peachy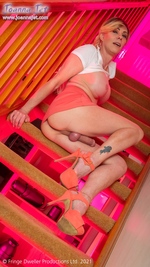 23 April 2021
A peach miniskirt and heels with a pink backdrop makes the title of this set fairly obvious :-) xxx
A Holey Outfit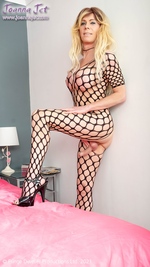 16 April 2021
You can never have too many holes, right? :-) xxx
MILF Minidress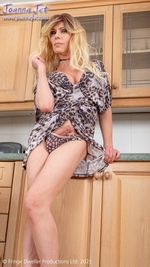 09 April 2021
I do like a minidress and nothing says MILF like a spot of animal print ;-) xxx
Black Lingerie, Pink Heels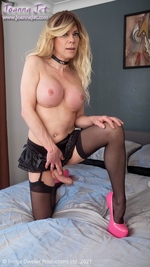 02 April 2021
Black is always a great choice for lingerie but I do like to add a splash of colour too ;-)
Rocking the Boots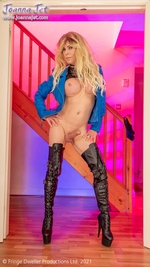 26 March 2021
When I saw these boots, I knew they had to be part of my collection. I trust you approve of my shopping decision?
Babydoll Fucktoy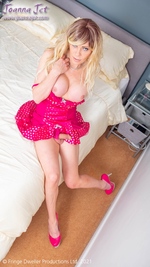 19 March 2021
I know there are times when you don't want me all big and hard, you just want me to slip on my babydoll and be a good fucktoy ;-)
Pantyhose Show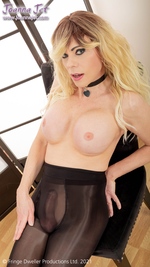 12 March 2021
I found some japanese pantyhose that have a panel which is just perfect for showing off my perfectly wrapped cock :-)
Slippery Shiny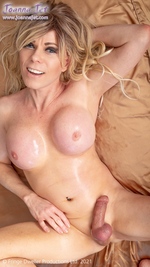 05 March 2021
No clothing required at this time, just lots of slippery lube to get everything all shiny!
Lingerie Day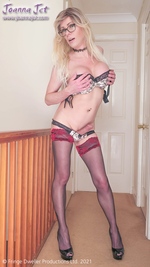 26 February 2021
As you know, I am not usually one for underwear so when I do wear a nice lingerie set, I like to show it off :-)
Mini Maxi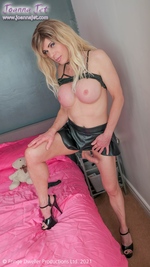 19 February 2021
Went mini with the skirt and top but definitely keeping it maxi with the tits and cock ;-)
Dark Enticement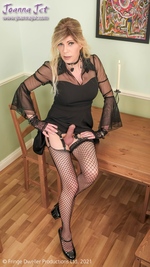 12 February 2021
Be wary of a lady all dressed in black, she will fraw you into the dark side :-P xxx
Relaxing at Home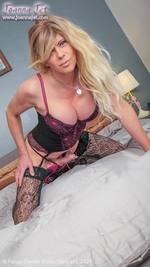 05 February 2021
It's nice to get home, relax and release all of that pent-up frustration :-)
70's Pop
29 January 2021
Some free love in the seventies? sign me up :-) xxx
On a Mission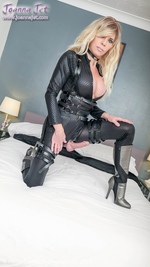 22 January 2021
You know me, always on a mission and I think that, after all this time, that mission is not really a secret anymore :-p xxx
MILF in Nylons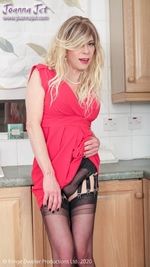 15 January 2021
MILF in Nylons, kinda my thing really ;-) xxx
Shorties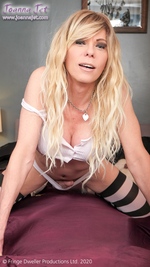 08 January 2021
Going minimalist with short shorts, short top and short booties :-) xxx
Transparent Shiny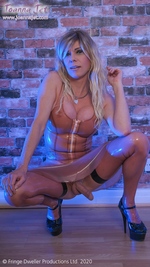 01 January 2021
Transparent and shiny? What a combo! :-) xxx
No Sleeping Tonight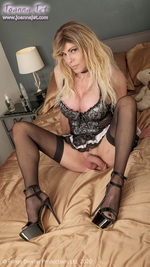 25 December 2020
No sleeping tonight, I may have a visitor ;-) xxx
Mischevious Madam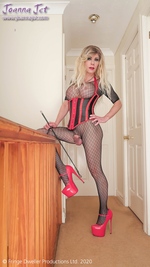 18 December 2020
This mischevious madam clearly has plans :-) xxx
Playtime Dress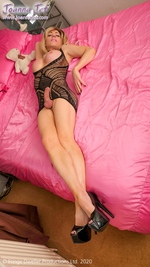 11 December 2020
Another playtime dress I just happen to have in my collection, after all, I like to have lots of playtime :-)
Dinner or Dessert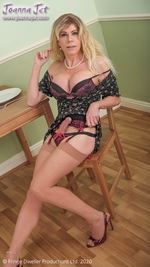 04 December 2020
That tough decision when wifey offers you the option of dinner or dessert ;-) xxx
So Not Demure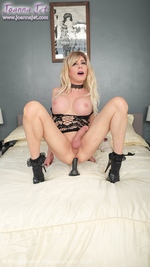 27 November 2020
Unsurprisingly, demure is not in my vocabulary ;-) xxx
Morning Workout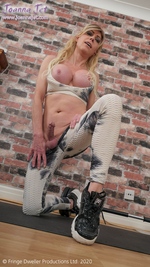 20 November 2020
My choice of outfit for my morning workout. I trust you approve ;-)
Monday MILF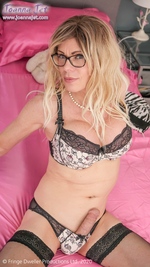 13 November 2020
#MondayMILF is a thing and I am just confirming this :-) xxx
Kitchen Mini
06 November 2020
Just hanging out in the kitchen in a very skimpy top, short mini-skirt and of course, a pair of high heels. I actually have some panties on for a change too! xxx
Hosiery and Heels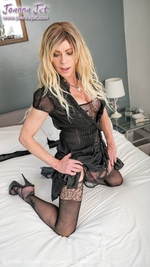 30 October 2020
A lacy bodystocking and a strappy pair of heels always work for an all-black outfit ;-)
Sheer Blonde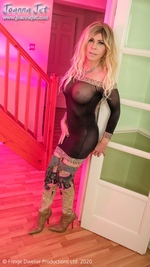 23 October 2020
Blonde in designer thigh-length boots? Has to be finished off with a sheer dress :-)
Entertaining at Home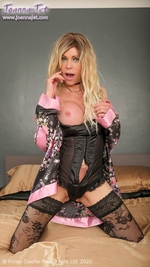 16 October 2020
Just a little something I threw on for a spot of entertaining ;-)
Brittney Vibe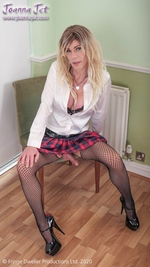 09 October 2020
Definitely channelling some Brittney on this particular day ;-)
Tight Fit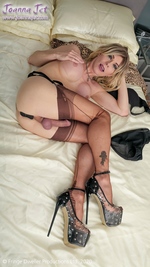 02 October 2020
It's not just the dress that's a tight fit ;-)
Just a Gown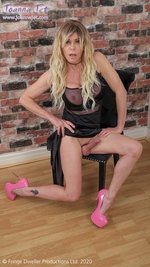 25 September 2020
With the right black gown, finished off with just a pair of heels, you can do elegant and practical at the same time ;-)
Brothel Show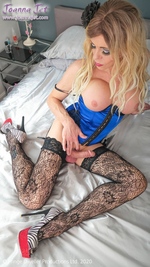 18 September 2020
Whend funds are tight, there is always the option of a personal show at the brothel ;-) xxx
That Lady next Door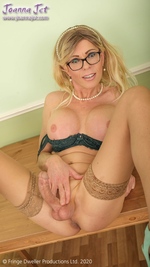 11 September 2020
It is certainly worth getting to know that lady that lives next door ;-) xxx
Bedtime Frolics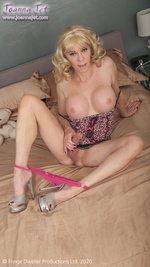 04 September 2020
Nothing beats a good frolic at bedtime ;-) xxx
Garden Party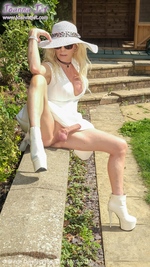 28 August 2020
You are guaranteed I know how to make an entrance at a garden party ;-) xxx
Summer Casual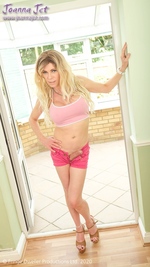 21 August 2020
As the summers get hotter, my outfits get smaller although just a pair of heels is my preferred option ;-) xxx
Sooo Fluffy
14 August 2020
I do not wear this babydoll too often because, whilst it is super cute, it leaves fluff absolutely everywhere!! xxx
Fishnet and MILF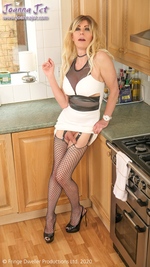 07 August 2020
Very handy that I happen to have a pair of fishnet stockings to complement the fishnet in the dress ;-) xxx
Wrapped in Hose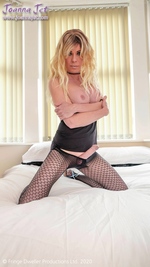 31 July 2020
I do like my patterned hosiery and they are perfect for those chilly British summer days ;-)
Summer Flowers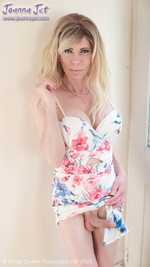 24 July 2020
Nothing says summer dress like a strappy number with flower print :-) xxx
Fishnet Overload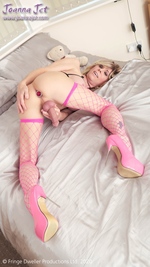 17 July 2020
Why have just a little fishnet when you can always add a little more ;-) xxx
Unpopped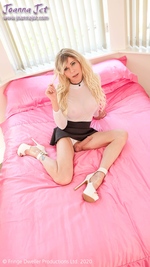 10 July 2020
Any outfit that has crotch poppers goes to the top of my list :-) xxx
Shiny Boots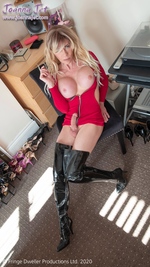 03 July 2020
It goes without saying that I would have a pair of thigh-length shiny boots :-) xxx
MILF Lingerie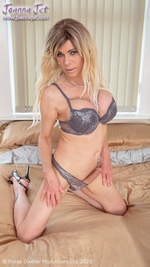 26 June 2020
A great lingerie collection is an absolute MILF requirement :-)
Definitely Lacy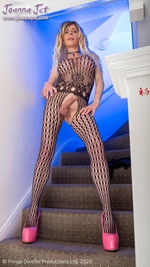 19 June 2020
Lacy bodystockings are always a favourite. They accentuate an outfit whilst making everything easy to get to ;-)
Fully Clad Latex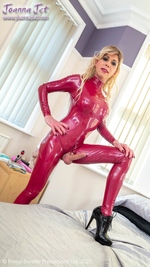 12 June 2020
It has been a while since I have slipped in to a latex catsuit ;-) xxx
Just Enough
05 June 2020
Just enough material to do the job ;-) xxx
Almost Ready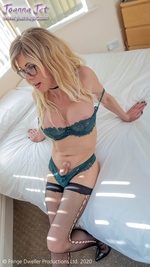 29 May 2020
Almost ready, just need to slip into a dress but there is something I need to do first ;-) xxx
Little White Dress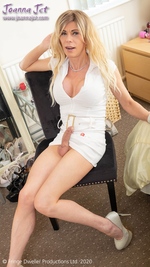 22 May 2020
Whilst it is well known that a have many little black dresses, I have the occasional white one too :-) xxx
Shimmer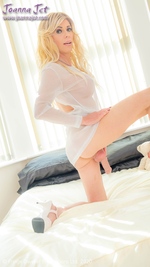 15 May 2020
This silver shimmery dress is just perfect for catching the light on a bright spring day. xxx
Shiny Casual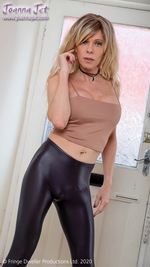 08 May 2020
I found these super shiny tights/pantyhose from a Polish manufacturer and they certainly highlight all the right bumps ;-)
Lingerie and Nylons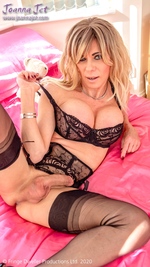 01 May 2020
Just making sure I keep you regularly topped up with lingerie, nylons and heels ;-) xxx
A Day at Home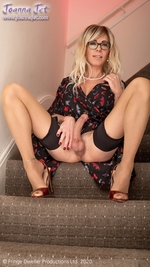 24 April 2020
Just lounging around the house in one of my favourite MILFy dresses ;-) xxx
Private Dancer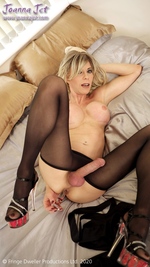 17 April 2020
Whilst the outfit is more for dancing, I have other plans in mind ;-) xxx
Swimsuit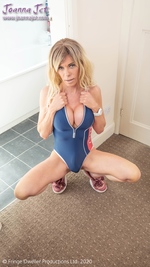 10 April 2020
Something a little different as I go for a one-piece swimsuit ;-) xxx
Skimpy See-Thru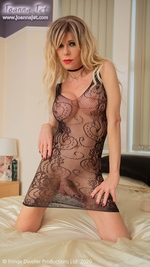 03 April 2020
This lacy dress is skimpy and totally see-thru. It will not be keeping me warm but that's not the idea ;-)
MILF in tight Dress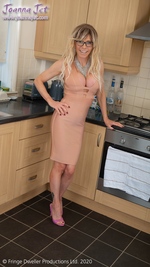 27 March 2020
Extremely figure hugging and more than a little cleavage enhancing, now wonder it is one of my favourites dresses ;-)
Knickers and Bra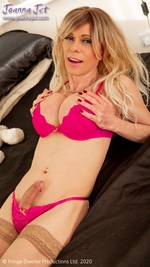 20 March 2020
Sometimes, all you need is knickers and a bra ;-)
Black Patterned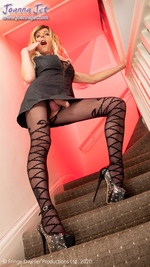 13 March 2020
I love patterned bodystockings, practical and always enhance an outfit choice ;-)
Morning MILF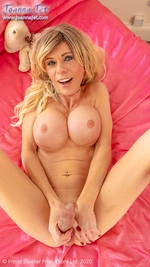 06 March 2020
To be a slutty MILF always means busy mornings ;-)
Electric Blue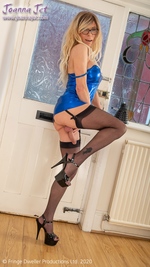 28 February 2020
Electric blue is not a good idea if you want to blend in, otherwise, it's perfect ;-)
White Zippy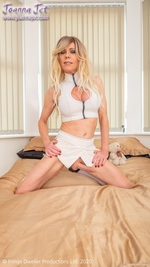 21 February 2020
Definitely an outfit made for fun with just enough zips ;-)
Nylon Galaxy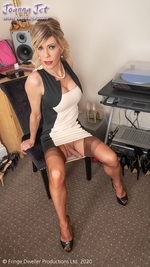 14 February 2020
A tight fitting galaxy dress with legs clad in fully fashioned nylons to do both formal and sexy at the same time ;-)
Caught in Purple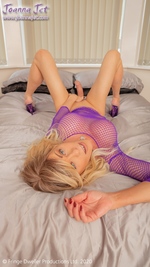 07 February 2020
Catch of the day in purple fishnet and heels ;-) xxx
Comfies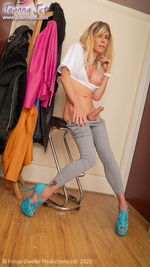 31 January 2020
When floating about the house, you need some comfies and this little top and leggings do the job just fine ;-) xxx
Sheer Black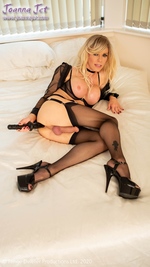 24 January 2020
Sheer black lingerie and hose, glam make-up and stripper heels, all ready for some fun ;-) xxx
Skintight Silver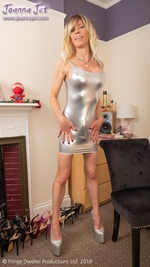 17 January 2020
Yes, this outfit does indeed leave nothing to the imagination ;-) xxx
Satin and Flowers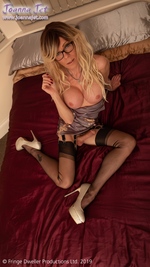 10 January 2020
What a surprise, another skimpy dress from my wardrobe ;-) xxx
Dogtooth PA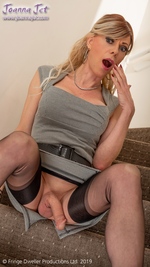 03 January 2020
If I ever took on the role of PA, I would definitely wear a dogtooth dress, nylons and heels ;-) xxx
Candlelight Latex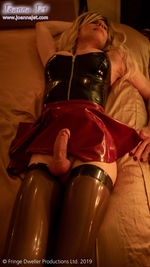 27 December 2019
Candles and a little latex. Am I setting the mood? ;-) xxx
Red and Black
20 December 2019
Red and black works every time ;-) xxx
Coffee Break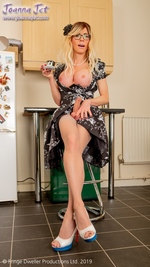 13 December 2019
We all need a little break every now and again and not just for coffee ;-)
Skimpy Shiny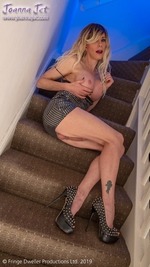 06 December 2019
The perfect clubbing dress, skimpy and shiny ;-)
Bodystocking Sweetheart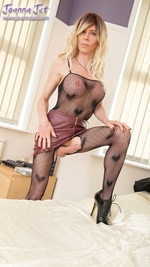 29 November 2019
A bodystocking with a heart motif, what's not to like :-)
Madame Cougar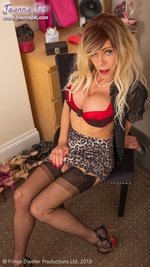 22 November 2019
Clearly a Madame, quite possibly a Cougar too ;-) xxx
Wild Stripes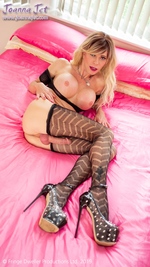 15 November 2019
You should always be careful of creatures with stripes, especially on a night out ;-) xxx
Housewife Antics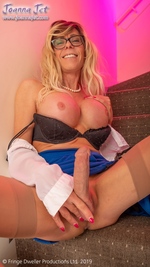 08 November 2019
This housewife knows just what to do with her day ;-) xxx
Pink Neon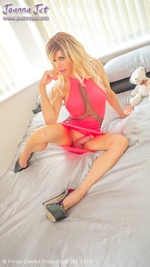 01 November 2019
If wanting to get noticed, I find that a neon pink dress with sheer panels to show that one is not wearing anything underneath works just fine ;-) xxx
Free and Easy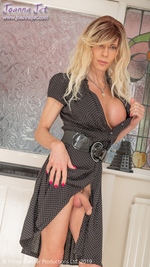 25 October 2019
Tea dresses are perfect when one wishes to be free and easy underneath ;-) xxx
Black to Classic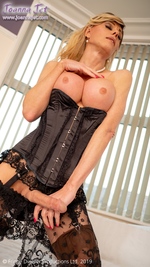 18 October 2019
All in black with some fully fashioned copper nylons for my lovers of classic lingerie :-)xxx
Bedtime Pastels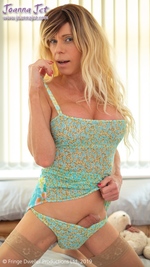 11 October 2019
Just spilling out of a little pastel designer lingerie set ;-) xxx
Skintight Whites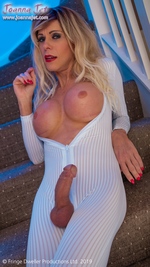 04 October 2019
Making use of all the zips on this skintight white catsuit even though it pretty much shows all even when still zipped up ;-) xxx
Oh so White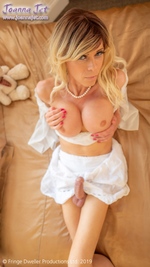 27 September 2019
Just some pretty frilly and sheer whites for today :-) xxx
Soap and Spray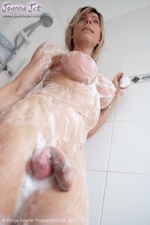 20 September 2019
Soap and Spray, the title says it all! xxx
Bare Necessities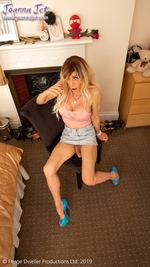 13 September 2019
On a hot day, all I need are the bare necessities: a skimpy top, a miniskirt and a pair of heels, that's all ;-) xxx
Black Vinyl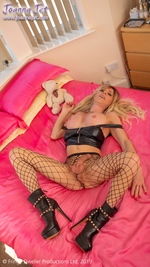 06 September 2019
If you choose to wear black vinyl, you have to go fishnets and booties ;-)
Day at the Office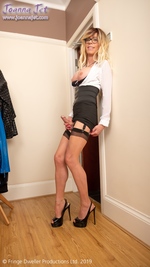 30 August 2019
If I had an office job, this would be definitely be my choice of workwear ;-) xxx
One More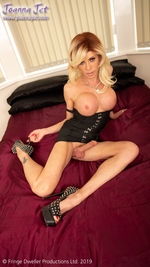 23 August 2019
Yes, one more little black dress cos this one is different from all the others!! ;-) xxx
Blue Zippy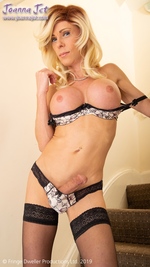 16 August 2019
The blue zipper dress was not to my liking so I discarded in favour of the much nicer lingerie underneath ;-) xxx
Lazy Sunday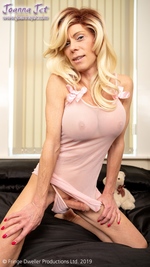 09 August 2019
Just a lazy sunday lounging about in just a sheer pink nightie ;-) xxx
Tartan Skater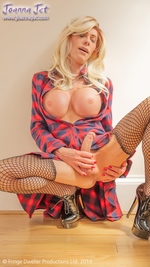 02 August 2019
One of my favourite dresses is this tartan skater dress. Lots of plunge, all floaty down below and goes great with a pair of fishnet stockings and some Oxford Heels ;-) xxx
Summer Satin MILF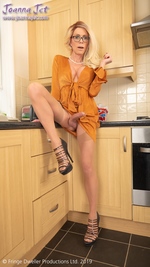 26 July 2019
Satin dress without panties, what better way to stay cool in the summer ;-) xxx
Boss Lady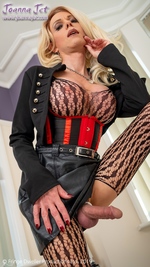 19 July 2019
This dominant lady knows what she wants and gets what she wants ;-) xxx
Hallway Meet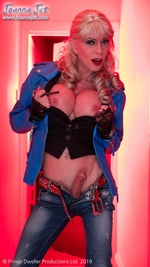 12 July 2019
Stay in a bed and breakfast and you never know who might be in the room next door ;-) xxx
Sex Dress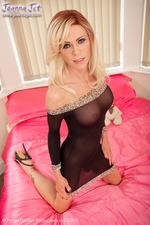 05 July 2019
Let's face it, this dress sends a simple clear message, it's time for sex ;-) xxx
LGBTQ DIY
28 June 2019
When the work has to get done, I have just the right tool for the job ;-) xxx
Bathroom Sheer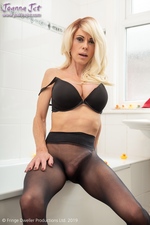 21 June 2019
In those times when I do wear tights/pantyhose, they are always totally sheer and never with panties! xxx
Employee of the Month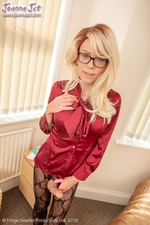 14 June 2019
I wonder why I keep getting Employee of the Month? ;-) xxx
Summertime MILF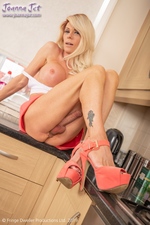 07 June 2019
Spring is here. so time to lose the underwear and dig out the skimpy tops and short skirts :-) xxx
Black & Pink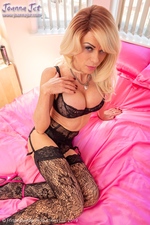 31 May 2019
Classic black lace lingerie and slutty pink sandals under a black cocktail dress. Time to go looking for some fun ;-) xxx
Little Black Latex Dress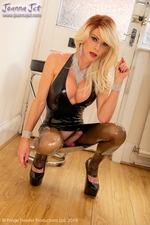 24 May 2019
Every bad lady needs a little black latex dress ;-) xxx
Pure MILF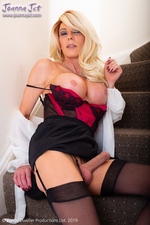 17 May 2019
Just doing pure MILF ;-)
Slutty Hostess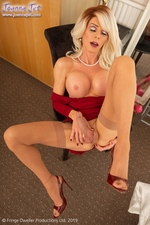 10 May 2019
A good hostess always knows how to look after a guest, and as for slutty ones, well....
Bandage Dress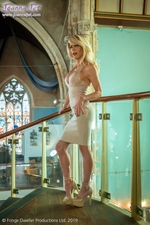 03 May 2019
After publishing one of these pics on the member's home page, I received a request to include a full size version so here is a small glamour set to oblige :-)
Love a Catsuit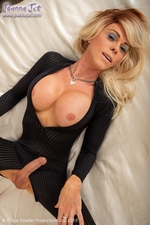 03 May 2019
Here we go, the first set with the 2019 upgrade and I thought a catsuit would be a good way to start off ;-)
Patterned Bodystocking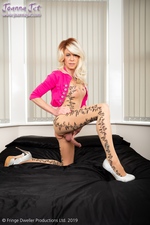 26 April 2019
Something a little different with a patterned bodystocking. xxx
Red Temptation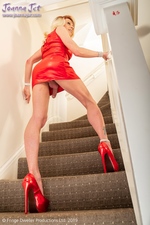 19 April 2019
I have found this shiny red dress and heels combo perfect for tempting the boys ;-) xxx
Fluffy and Sheer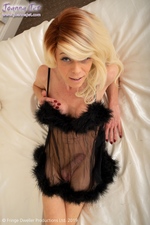 12 April 2019
Fluffy and sheer make for a great combination on a babydoll when you are not of a shy disposition ;-) xxx
Comfy Slutty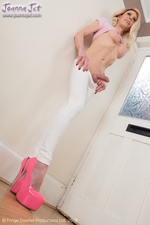 05 April 2019
Just demonstrating how you can do both slutty and comfy at the same time ;-) xxx
Cougar Seduction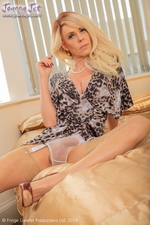 29 March 2019
All of the cougar trimmings, from the dress to the undergarments and the heels ;-) xxx
Boudoir Lingerie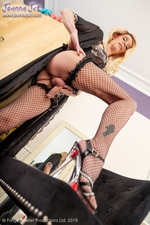 22 March 2019
Something to wear when entertaining in the bedroom :-) xxx
Sex Toy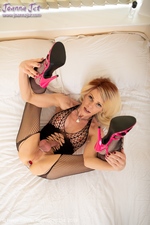 15 March 2019
The butt plug and cock ring are the accessories that come with the sex toy ;-) xxx
Cougar Boss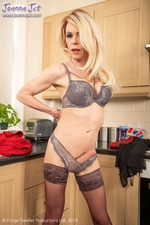 08 March 2019
The cougar is all set for a day at the office being the boss in her own unique way ;-) xxx
MILF Overload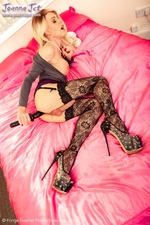 01 March 2019
When heading out for a hookup, a slutty outfit and an ass ready for cock is what this MILF wants ;-)
Denim Revisited
22 February 2019
For those with a good memory, I found the denim set I wore 16 years ago for Brazen Shemales (yes, the one with scene on the pool table with Vicky Richter) :-)
Catsuit Glam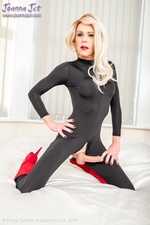 15 February 2019
Some of your favourite things all finished off with some glam ;-)
Casual in Heels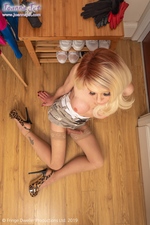 08 February 2019
Heels are fine for those casual dress moments too!!
Never too Much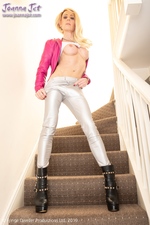 01 February 2019
You can never have a slutty neighbour whose pants are too tight, her tops too skimpy and her heels too high ;-)
Housewife and More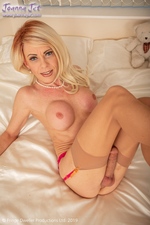 25 January 2019
Everyone can appreciate a housewife that has that little bit more je ne sais quoi ;-)
Fishnet Cumslut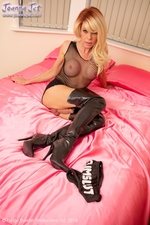 18 January 2019
The panties say it all ;-) xxx
Barstool Business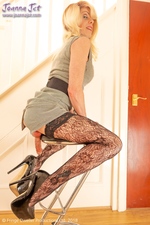 11 January 2019
Just showing off my skills at using a barstool when on business trips ;-) xxx
Stripy Babydoll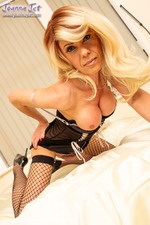 04 January 2019
When I am wearing a babydoll, you know the bed is not for sleeping in ;-) xxx
Playtime MILF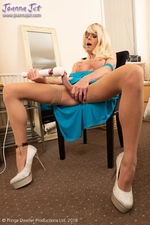 28 December 2018
Once all the dinner guests have left, it's personal time for a little play ;-)
Black Ensemble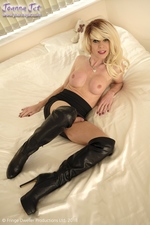 21 December 2018
A black sheer bra, black skirt, black jacket and black boots makes for the perfect black ensemble ;-)
Slutty Mom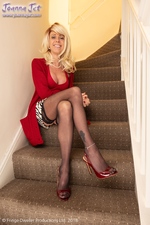 14 December 2018
Every street has a slutty mom looking to keep herself occupied ;-)
Pink Aplenty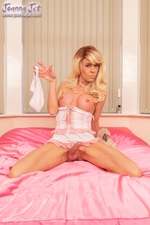 07 December 2018
Pink is not just for the teenies ;-)
The Madam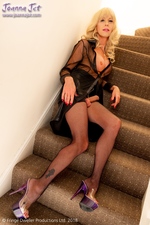 30 November 2018
You want to get to the fun that is to be had upstairs but only with the approval of the madam ;-) xxx
Basement Filthy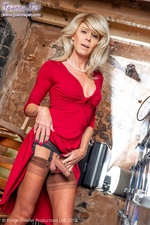 23 November 2018
We all know you are pretty much guaranteed to find something filthy in the basement ;-) xxx
Simply Lingerie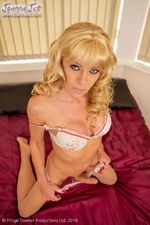 16 November 2018
Sometimes all you need is a pretty little lingerie set ;-) xxx
Rocking It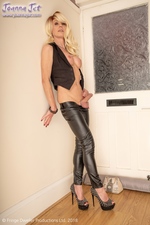 09 November 2018
It's all about the rock chick look with skintight jeans, a tight waistcoast and a pair of killer heels ;-) xxx
Home Flirt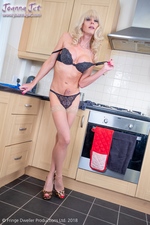 26 October 2018
Just something I like to wear when expecting some deliveries or a new neighbour ;-) xxx
Fucktoy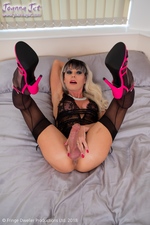 19 October 2018
Cos we all love a fucktoy? right? xxx
Slut Casual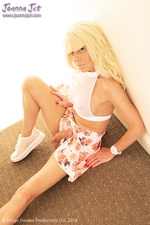 12 October 2018
How to do slutty and casual all at the same time ;-) xxx
Gold Tease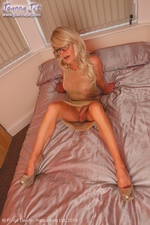 05 October 2018
Just my type a dress, a gold lame number that goes totally see-through at the right angle ;-) xxx
Latex and Heels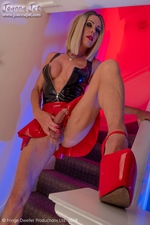 28 September 2018
Just some pure fetish with just latex and heels. xxx
Pink PA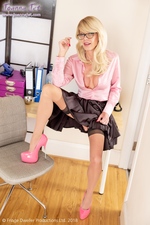 21 September 2018
A PA that takes personal to another level! xxx
Sheer Body and Plaid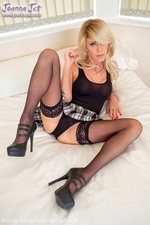 14 September 2018
A sheer bodysuit with a backdoor zip and a short plaid skirt. What could I possibly have in mind this afternoon? xxx
Slutty Gown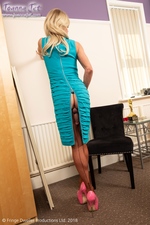 31 August 2018
An elegant dress with a back zipper that goes all the way up from the bottom? So my thing ;-)
Working It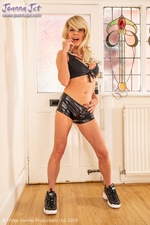 24 August 2018
When planning to work-out, I also try to work-it too as it might get me the work-out I prefer ;-)
Pink Playtime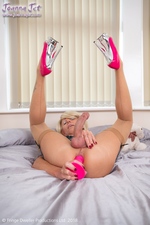 17 August 2018
New pink heels, new pink dildo, is there any more to add?
Upskirting MILF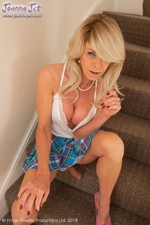 10 August 2018
If someone is going to get busted for taking upskirt photos or video, might as well makes sure I provide something worthwhile for their collection ;-)
Cougar Trap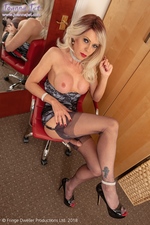 03 August 2018
A little dress, stockings, heels and red lipstick, this cougar is ready to go out and set her trap ;-)
Silver Lace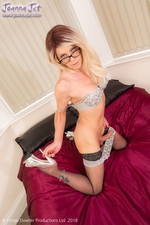 27 July 2018
Just the kind of lingerie your mother might wear, not sure about the cum-fuck-me high heeled mules though ;-)
Summer MILF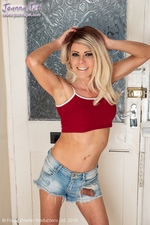 20 July 2018
Is it any surprise that I come home with the taste of cum in my mouth when I go out in this outfit?
Shorts and Crop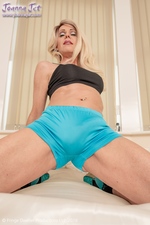 13 July 2018
Thin skintight shorts and a short crop top are the perfect start for a playtime outfit!
Getting Ready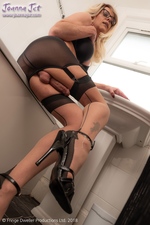 06 July 2018
A slutty MILF needs to get ready and that always includes plenty of nylon, strappy sandals and an ankle bracelet ;-)
Silvery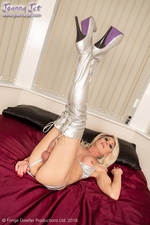 22 June 2018
Went digging through my drawers and found this slutty little silvery play outfit ;-) xxx
Casual Leather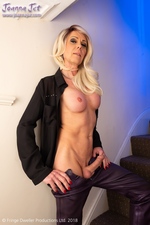 15 June 2018
Just chilling out in my comfy leather jeans. xxx
Bad Bad Lady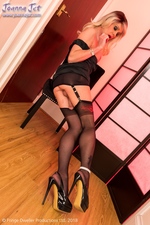 08 June 2018
Some ladies are very bad but that is not necessarily a bad thing ;-) xxx
Spring Dress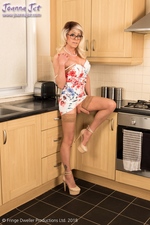 01 June 2018
Yay!! the warm weather is here and it is time to slip into (and out of) a floral dress ;-)
Frisky Whites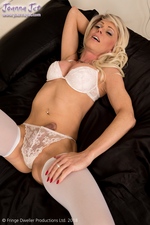 25 May 2018
Feeling anything but innocent in my white lingerie ;-) xxx
MILF at Home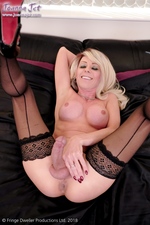 11 May 2018
Sometimes, you just have to get down to your undies and enjoy some personal time ;-) xxx
Morning Mom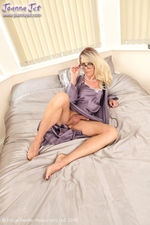 04 May 2018
Tranny Moms get horny in the mornings too ;-) xxx
Pink Nylons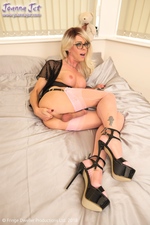 27 April 2018
A classic look with a touch of pink as I find some rare pink fully fashioned vintage nylons to wear whilst I finger fuck my ass ;-) xxx
Ready to Play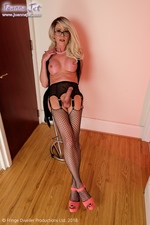 20 April 2018
A zip-front dress, fishnet stockings and slutty heels, all ready to meet my next visitor for play time ;-) xxx
Shemale Cougar #5 - Hunted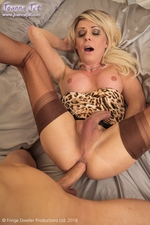 13 April 2018
The cougar went on the prowl and it was a successful hunt ;-) xxx
Lingerie, Lace & Toy
06 April 2018
The title says it all really so time for action ;-) xxx
On the Move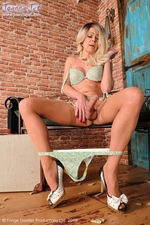 30 March 2018
Travelling can be so tedious but there are all sorts of things you can get up to to keep yourself occupied ;-) xxx
Staircase Sheer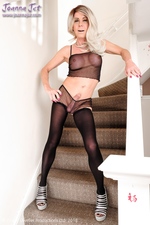 23 March 2018
Those times when you get caught on the stairs in just your sheer undies!
Me Time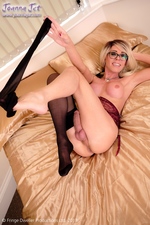 16 March 2018
After a hard day at the office, it is lovely to come home and have some quality me time ;-) xxx
Auntie Jo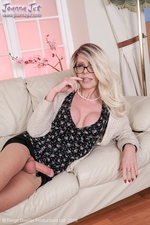 09 March 2018
All of the in-laws have being warned about Auntie Jo when she gets on the gin and tonic ;-) xxx
Catsuit For Fun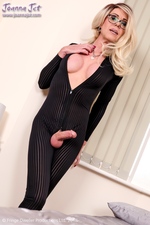 02 March 2018
This catsuit was clearly made for having fun ;-) xxx
Posh Vamps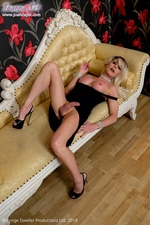 23 February 2018
You know that how matter posh the function, I can turn it into a filth fest ;-)
Top Bitch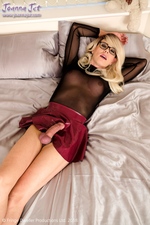 16 February 2018
When I am wearing a sheer body, a tiny latex skirt, serious heels and a cock ring, you know it's my turn to be top bitch ;-)
Diner Party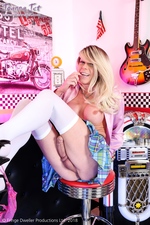 09 February 2018
When asked to dress playful for a party, I always end up a little over the top :-)
Body, Boots & Beads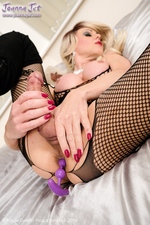 02 February 2018
A bodystocking and boots is a good combination but you can add anal beads to make it a total winner ;-)
Fit MILF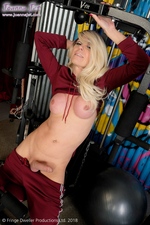 26 January 2018
A MILF has to keep fit to keep up with her young men ;-)
Shiny Blue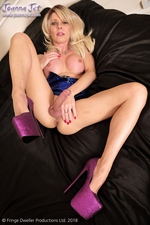 19 January 2018
I do like all things shiny and glittery and I have managed to include both in this slutty outfit ;-) xxx
Milk Bath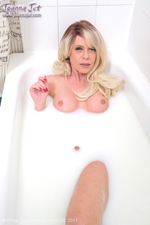 12 January 2018
Who doesn't enjoy a milk bath from time to time ;-) xxx
Lace babydoll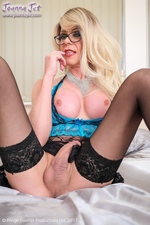 05 January 2018
Lace babydolls are the definition of naughty but nice ;-) xxx
All Sheer
29 December 2017
One can never have enough sheer nylon in one's slutty wardrobe :-p
Housework Day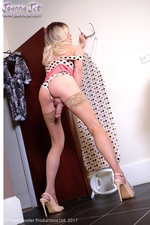 22 December 2017
Ironing is so not my thing, have much better things to do with my time :-) xxx
Bright Pink
15 December 2017
Nothing quite like bright pink lingerie when you want to make a statement ;-P xxx
Expecting You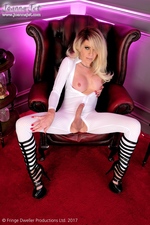 01 December 2017
When the vilain in her catsuit says I've been expecting you, you know there is trouble ahead!
Rock MILF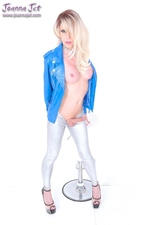 01 December 2017
Just rocking the rock MILF look ;-)
Nylon Business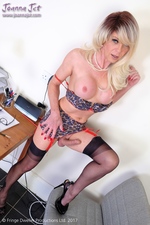 24 November 2017
If you are going be doing business, you might as well do it in a pair of black fully fashioned nylons ;-)
The Bodystocking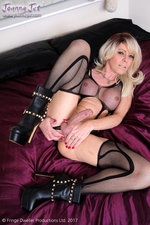 17 November 2017
Under the cozy sweater is a far more interesting bodystocking :-)
Party Dress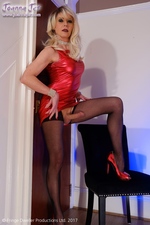 10 November 2017
One of my favourite party dresses and best worn with crotchless pantyhose and matching high heels :-)
Ready for the Prowl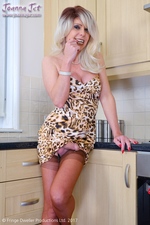 03 November 2017
I think it is pretty clear what's on my mind in this outfit ;-) xxx
Traditional Lace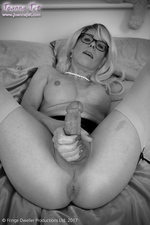 03 November 2017
A spot of black and white for some very traditional lingerie :-) xxx
Going Underground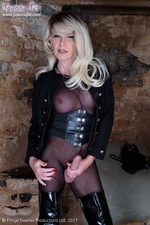 20 October 2017
You know that horror movie saying of "Don't go in the basement!", well know you know what is waiting for you :-P
Violet Lingerie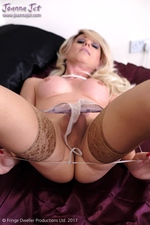 20 October 2017
Just an average MILF pornstar day lounging about in skimpy lingerie ;-)
Basque for the lady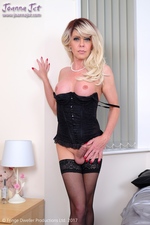 13 October 2017
Every lady should have a black basque in her lingerie collection ;-) xxx
Shower Time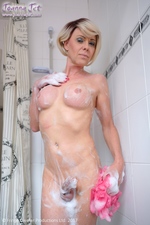 29 September 2017
Captured on camera whilst having a shower ;-) xxx
Totally Eighties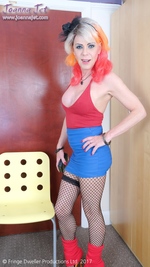 29 September 2017
Garish colours, sluty outfits, legwarmers. personal tape players and vinyls, it has to be the eighties :-)
Morning Cougar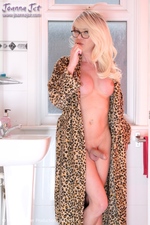 15 September 2017
Just one of those morning after moments with the cougar that fucked you the night before ;-)
Playtime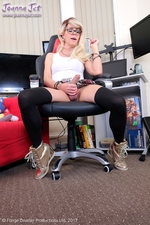 15 September 2017
We all have our hobbies and some of them are more adult oriented than others ;-) xxx
Birthday Suit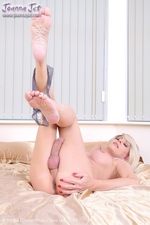 01 September 2017
It's not my birthday but every day is an occasion for the birthday suit ;-) xxx
MILF it Up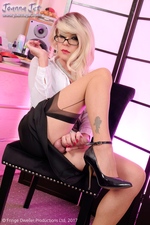 01 September 2017
MILFing it up the max :-)
Shemale meets Female #6 - Housewives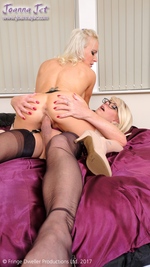 18 August 2017
These slutty housewives like to spend their husband's hard earned wages, after fucking each other of course!
Short and Slutty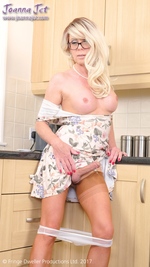 18 August 2017
Trust me to find a flowery MILF dress that is short, barely covers my tits and totally slutty :-) xxx
Plaything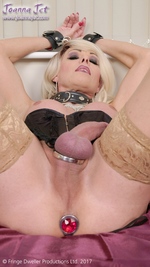 11 August 2017
Just tie up this plaything and you are ready to have your fun ;-) xxx
Totally Sheer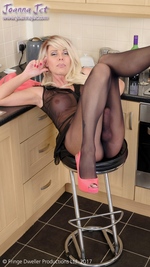 11 August 2017
I know how much many of you love seeing all my assets clad in nylon so this should do the trick ;-) xxx
Premium VIP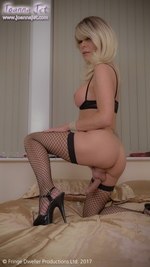 04 August 2017
You know when you ask for the premium VIP service in the brothel, you are in for a treat :-) xxx
Pretty Pink Lingerie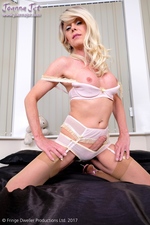 04 August 2017
A pretty pink lingerie set I had forgotten about until I had found it in the back of my drawers ;-)
MILF at Home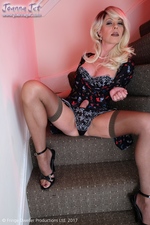 21 July 2017
A demure tea dress covering a sluty basque, every day stockings and strappy sandals, the perfect attire for a MILF at home.
Your Mom wears Latex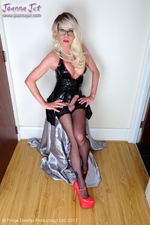 21 July 2017
For all you know, your best friend's Mom, when you were growing up, liked to wear latex when the kids weren't home ;-)
Cami and Heels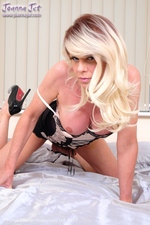 14 July 2017
Ready for fun in just a vintage style cami and a pair of heels ;-)
MILF Casual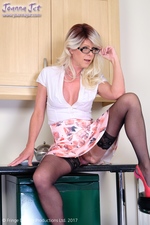 14 July 2017
I am not always in slutty outfits, a lot of time, I am rocking the MILF casual look, although with no panties of course to keep a hint of slutty ;-)
Figure Hugging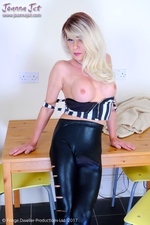 30 June 2017
I do like black, shiny and figure hugging :-) xxx
Shemale Tranny Hunter #3 - Mia Maffia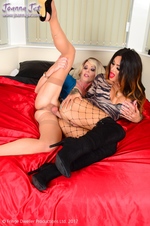 30 June 2017