FEATURED MODEL: Vicki Richter
Back Together!!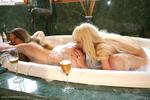 15 May 2004
With Brazen Shemales 2 in the prduction pipeline, Vicki and I got together for a warm-up scene which will be appearing in Shemale jet-Set 6. I am convinced that you will agree, just from looking at these pics, why I consider Vicky and I to be the hottest TS/TS pairing in the business!!
Catching up with Vicki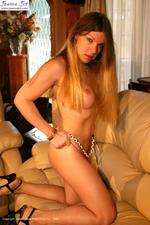 01 April 2004
After more than a year, Vicki and I have finally managed to get back together. On the day these photos were shot, Vicki and I shot a video scene for Jet-Set 6. All I can say right now is "Don't miss it!!".
Vicki by the Pool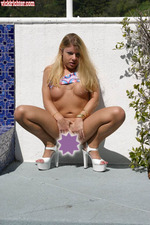 15 June 2003
Another set of Vicki that Harlot got to shoot before we got down to shooting the Brazen Shemales video.
Getting Greedy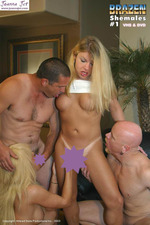 15 May 2003
What happens when you team up two shemales pornstars who want extreme sex with two of the best guys in TS porn? The photos in this set say it all and show just why the "Brazen Shemales" vid is going down a storm!!
Double Trouble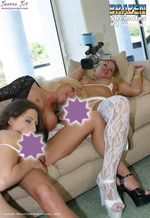 01 May 2003
Lena certainly got more than she expected when she found herself in the company of two shemales who are more than happy to have their wicked way with genetic girls. Lena took it all in her stride though and we ended up with an amazing second scene for the forthcoming Brazen Shemales video.
Shemale Pool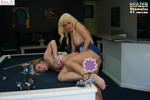 01 May 2003
This set starts off with some glam shots but then moves on to some all-out hardcore on and off the pool table. The photos from this set are straight out of the first scene of the soon to be released Brazen Shemales!!
Vicki - Brazen Shemale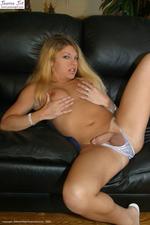 01 May 2003
Shot on set just before Vicki and I shot our wildest hardcore scene ever for Brazen Shemales #1 As you can see, Vicki was in the mood just as much as I was!
Vicki on the Stairs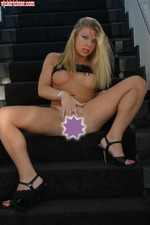 15 April 2003
Thos of you that are regulars to the site will know that Vicki and I are good friends and we met up in LA recently to work on a joint video project. We also got the chance to run off a few photosets too and this is one of them. Damn, Vicki has such a cute ass ;-)
Joanna & Vicki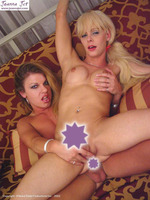 15 September 2002
This is a photoshoot taken during the filming of a scene for Shemale Jet-Set Vicki and I got on like a house on fire and when you put two shemales together that are both top and bottom, the result is a shoot that is full of heat and action ;-) Definitely the hottest scene on the video!
Vicki Richter
01 August 2002
Meeting Vicki was an amazing experience and one that I treasure greatly. I will admit it, she does things for me that no other shemale has ever done. I am not sure whether it is her cute cute butt, her deep blue eyes or the fact that she is just such a cool person to be with. Either way, check it this set and find out about the girl that makes Joanna Jet weak at the knees ;-)